BJ's Favorite Gay Porn Directors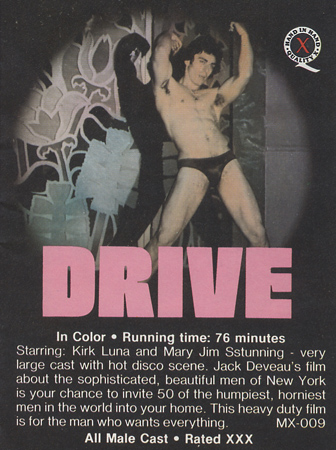 All these men worked in film in the 1970's and/or early 80's. Some went on to work in video, as well. While some of these films I am just now discovering, most were up on that big screen at the Bijou Theatre on Wells St in Chicago, when i was young; or later, at the Jewel Theatre on 3rd Ave, in New York City (young, but not as young!) I keep adding as I uncover new tidbits, or have the time to edit, etc. I'll try to post the "last time updated" for each director on this page, so check back for updates. Enjoy!
Arthur Bressan, Jr.
Only a few films, all high-quality, plus 3 other well-received non-porn films
Arch Brown
A very prolific director, his films spread from the early 70's and into the video era of the mid 80's
Peter De Rome
Just a handful of films, all good!
Tom DeSimone (Lancer Brooks)
put out a lot of films; some of the early "weird" ones I havent seen (but they're on my "to do" list!), and also some truely great films
Jack Deveau
the "master of narrative gay porn" and head of Hand In Hand Films; a fantastic filmmaker!
Roger Earl
just a few titles, like Gayracula and Men of the Midway
Francis Ellie
just a few titles, but some 70's "classics"!
Joe Gage (AKA Mac Larsen post Heastroke 1982-1984)
What can I say? The hottest films! - and check out my GAGETAPE page - my notes on the "Joe Gage Collection" vs. GAGETAPES
Fred Halsted
a great porn personality with a mixed track record as director, this link is my intro to Fred Halsted; click over here to go directly to my list of Fred Halsted's film work
Wakefield Poole
A bit more filled in, and I got to meet Mr Poole at a festival of several of his films weekend of 6/19/02!
Steve Scott
Some fantastic films, with some of porn's greatest (Al Parker, Lee Ryder, Jack Wrangler, etc) from the early 70's thru the video era of the mid-80's


this page last updated 12/19/19 (kinda)